All Suburban Electric is Skokie's Premier Electrician
Whether your home needs complete rewiring or you need to add a single circuit, the professionals at All Suburban Electric are available 24/7 to resolve any electrical issues including:
Replace, repair, install and maintain wiring and lighting systems
Inspect transformers and circuit breakers
Electrical inspections to identify electrical problems and provide solutions
Repair and replace outlets or fixtures
Help homeowners adhere to state and local building codes
When that stopped working, and the microwave running at the same time as a nightlight would blow the fuse, we called All Suburban Electric. It's a good thing too because I was at my wits end. A couple new outlets here and there; some well place LED under cabinet lighting; the kitchen is finally brought into the 21 century.
Older Homes Pose Unique Electrical Challenges
Evanston's residential architecture is a source of civic pride. Victorians, Prairie Designs, Colonials, Bungalows and Tudors create a tableau of late 19th century and early 20th century sophistication. While these homes attract architectural tourists and hefty home prices, they also were built in a time when Americans were using little to no electricity.
Today, Evanston residents are using electricity to power appliances, electronics and lighting. The homes were simply not designed with the modern resident in mind. Even if periodic updates were performed, these older Evanston homes are more likely to require an electrician than modern homes.
Common problems include circuits shorting because the area of the home requires more energy that the circuit breaker can handle. This is especially a problem in kitchens. Dishwashers, toaster ovens, lights, electronics, and much more are all tapping into the same power source. It's more than a typical older circuit panel can handle.
To learn more about our services, read our case study on circuit panel replacement service to a homeowner in Evanston.
Older Homes More Susceptible to Electrical Fires
In addition to the inconvenience of outdated electrical systems, there is a very real threat of electrical fires. In 1995, the Evanston fire department fielded 2,798 fire calls. In 2015, the Evanston fire department fielded 3,363 fire calls. Meanwhile population in Evanston has remained relatively flat and fires nationwide have plummeted in the past ten years.
Evanston Fire Calls 1995-2015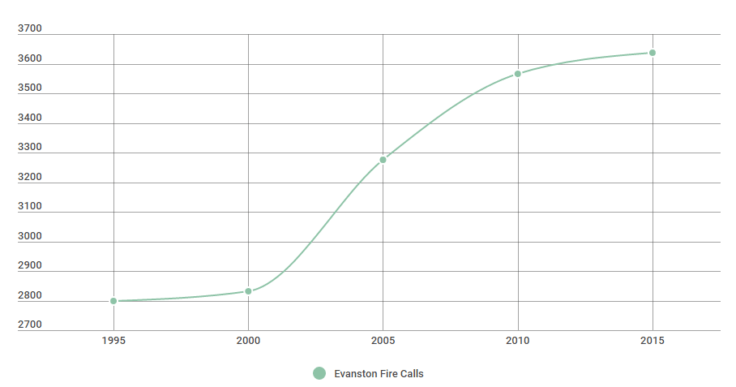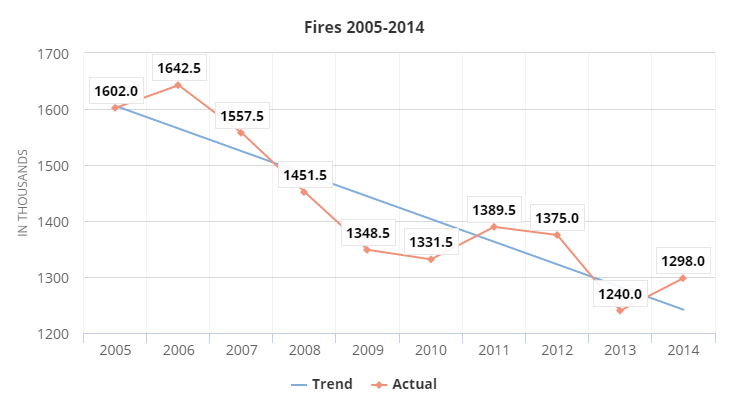 When electricity runs through a wire, the wire heats up. Today, most state and local governments require plastic insulated electrical wiring in new construction. Older homes (built prior to 1950) may have used knob-and-tube wiring or cloth covered wiring (built prior to 1960).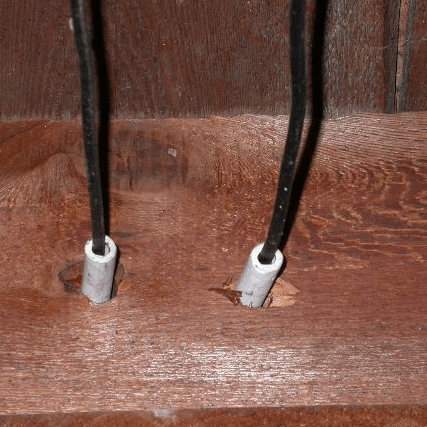 Knob and Tube Wiring works by running wire through rubber or ceramic tubes inserted into the wall. Inside the wall, the wire is bare. These bare wire greatly increase the chance of a fire.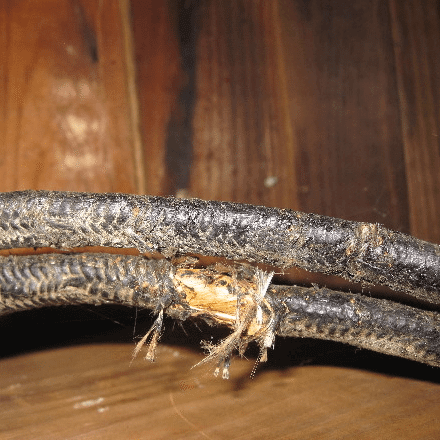 Cloth Covered Wiring insulates the wire with cloth. Over time, the fibers break down and crack exposing bear wire. This also increases the chances of an electrical fire.
If you are concerned about the wiring in your Evanston home, schedule service with All Suburban Electric. Our team of professionals will inspect your wiring and recommend strategies for improving the safety of your home.
Case Study
Evanston Circuit Breaker Repair & Replacement
Introduction
John and Beth Shelby purchased a prairie style home in Evanston in 2008. The Shelby's began a major renovation project in 2016. One aspect of this project was to upgrade their electrical system. Frequently the circuit breaker tripped. This problem occurred most often in the kitchen whenever the Shelby's used more than one appliance. Another part of the construction project was to add an addition onto the house. The new addition would need power and a new circuit.
Problem
Many homes in Evanston were built at a time when residents used very little electricity. The Shelby's home was built in 1913. There was an electrical upgrade done at some point in the 1950s or 1960s. Today homes use a lot more electricity. The Shelby's are typical of most Evanston residents. They used their electricity to power appliances, electronics and lighting. The problem is that the home was not built for that much usage.
All Suburban Electric was called to the job and performed an analysis of the current electrical system. It was old and used cloth insulated wire. This form of insulation is no longer used in new construction because over time the fibers in the insulation can fray and expose bare wire. This can increase the chances of the circuit breaker tripping. It also can become a fire hazard.
Solution
All Suburban Electric's plan was to rewire the home with plastic insulated wires to bring the home up to modern standards. The entire circuit breaker panel would be ripped out. All Suburban Electric would perform a circuit breaker replacement and rewire the home adding power to the new addition.
This was a big job. Over the course of two weeks, All Suburban Electric rewired the entire home. A new circuit breaker box was installed. The addition was wired. The biggest problem area, the kitchen, received increased amperage to accommodate all the power needs. The finished product was a modernized electrical system, a safer home and less headaches after the renovation.
A Closer Look at the Circuit Breaker Panel Replacement
Another Satisfied Customer
Working with All Suburban Electric was outstanding. The entire team made what could have been a hectic experience, hassle free. We love our newly renovated home. Please thank the entire team that worked on our home.
Let's Start a Project
Contact our experts and tell us how we can help.
Open 24 Hours / 7 Days a Week