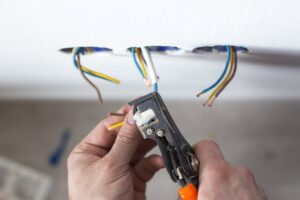 When hiring an electrician, you'll want someone who is honest, provides quality work, and won't break your budget.
But if you've never had to hire this type of professional before, it can be hard to gauge who's qualified for the job.
If you're looking for some electrical work in Highland Park, but don't know where to start, don't fret. We've got you covered. Here are some of our tips for finding the best local electricians.
Get Multiple Quotes 
We recommend obtaining at least 3-4 quotes from different Highland Park electricians. You should be looking for an electrician who can provide a thorough breakdown of the cost.
Make sure you clearly communicate what type of work you need done, so you can receive a fair estimate. Also, if you have a preference in materials or fittings used, this would be the time to specify.
Also, stay away from hiring someone just because they are the least expensive. By doing this, it's likely you'll compromise value.
Look At Their Experience
You should inquire about how long they've been in business and what projects they usually work on.
Specifically, ask about their past experience on projects similar to yours. What was their process? What were the results? What was the cost?
We recommend finding a Master Electrician, as they've cultivated the most experience. They have at least 3 years of electrical work and must offer their customers a 12-month warranty.
Gauge Their Professionalism
You should be visiting Highland Park electricians that you are interested in working with. Going to their office and meeting them one-on-one will give you a good feel of their work.
It's nobody's idea of fun to do business with a grouch, so see if they have a positive attitude. Also, do they seem open to communicating?
The best electricians are able to clearly communicate what work needs to be done. They should be able to lay out what the problem is and how they plan to fix it.
Also, if interested, ask if they can explain their procedures to you. This will give you better insight into the quality of their work.
Review Licenses 
Sure, you could go with an electrician who isn't technically certified. You know- the one your friend's friend recommended who does it for a crazy low price.
But, again, there's likely going to be a huge compromise in quality. The best local electricians are going to have the proper licenses to work in Illinois.
You should ask to see their license. Also, check to make sure it's not expired and covers what type of work you need done.
Word-Of-Mouth Recommendations
It's likely your friends or family in Highland Park have needed some electrical work similar to yours. So, why not see if they have any good recommendations?
Also, keep browsing online to see what you can find about your local electricians. Check a consumer-driven site such as Yelp or Angie's List for past customer reviews.
Looking for Local Electricians? 
We've got you covered! At All Suburban Electric, we service the Cook, Lake, and DuPage counties. Contact us to learn about the services we offer.